CISA Review Essentials Pass
Get the full course now
$349
CISA Review Features
Proprietary A.S.A.P. Technology
1,650+ Multiple-Choice Questions- with full text answers!
Unlimited Practice Exams
ReadySCORE
Desktop, Mobile, & Tablet Compatible
PDF Textbook Included
FREE Automatic Content Updates
Pass Guarantee
12 Months Course Access
Surgent CISA Review (formerly Exam Matrix CISA Exam Review) is the most efficient, effective method of passing the Certified Information Systems Auditor Exam on the market. Through the power of A.S.A.P. Technology, you'll experience a CISA exam prep experience that's 100% customized to you!
Register for a free trial and see for yourself why so many accounting professionals choose Surgent to prepare for and pass their exams.
A.S.A.P. Technology powers real-time algorithms that identify your unique strengths and weaknesses, and generate daily study material that's targeted to improve comprehension in those weaker areas.

Combine that with a ReadySCORE and unlimited practice exams, and the result? Unparalleled preparedness, confidence, and performance. You'll be on your way to getting your CISA certification in no time!
Our revolutionary adaptive learning technology has helped students:
Turn weak areas into strengths
Significantly reduce study time
Increase pass rates
Assessment Phase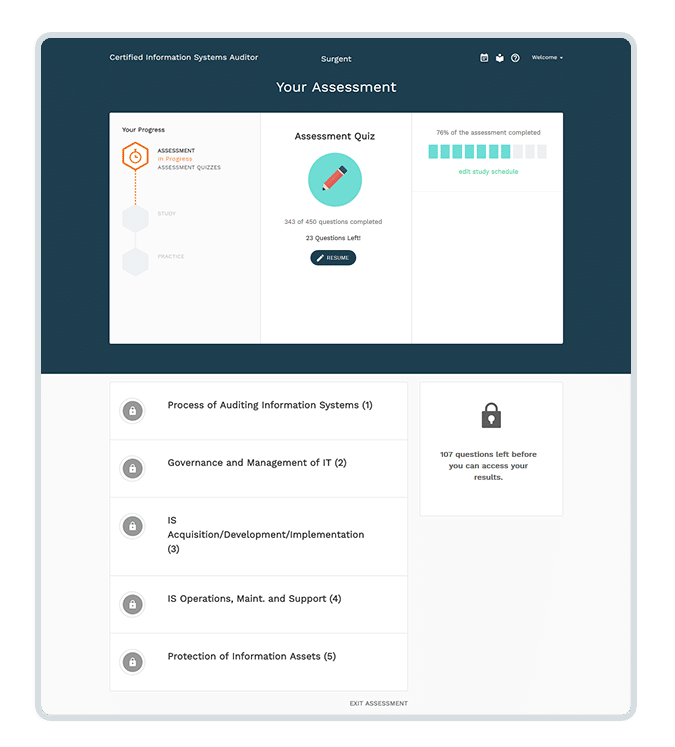 Complete a series of quizzes for our software to accurately assess your knowledge across all CISA Exam topics.
You'll answer a total of 150 questions – the magic number our algorithm needs to accurately assess your subject knowledge across all CISA exam topics.

Most competitors' reviews don't start with an assessment – those that do ask 20-25 questions at most. What good does that do?

Study Phase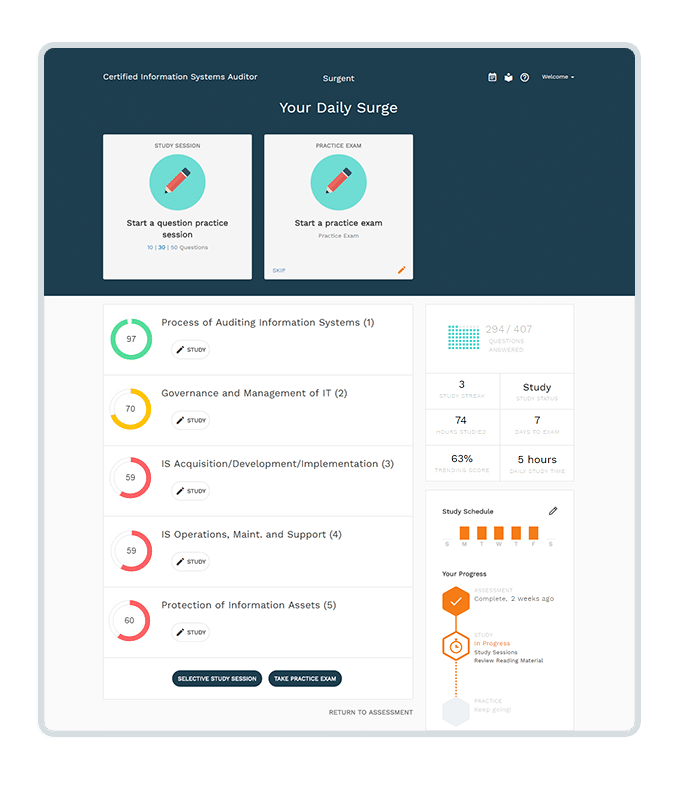 Using assessment results, real CISA Exam topic weightings, and ongoing study session performance, we create a hyper-personalized study plan.
A.S.A.P. Technology is efficient and effective – study material updates as you progress through the course, ensuring you're always focused on improving comprehension in weaker areas.

The integrated Study Planner tool – helps you determine exactly how many hours you'll need to devote to preparation based on your exam date, chosen study days, and mastery of material.

The Daily Surge dashboard – your CISA study material lineup, made up of Q&A and reading material that's targeted to improving comprehension in weaker areas.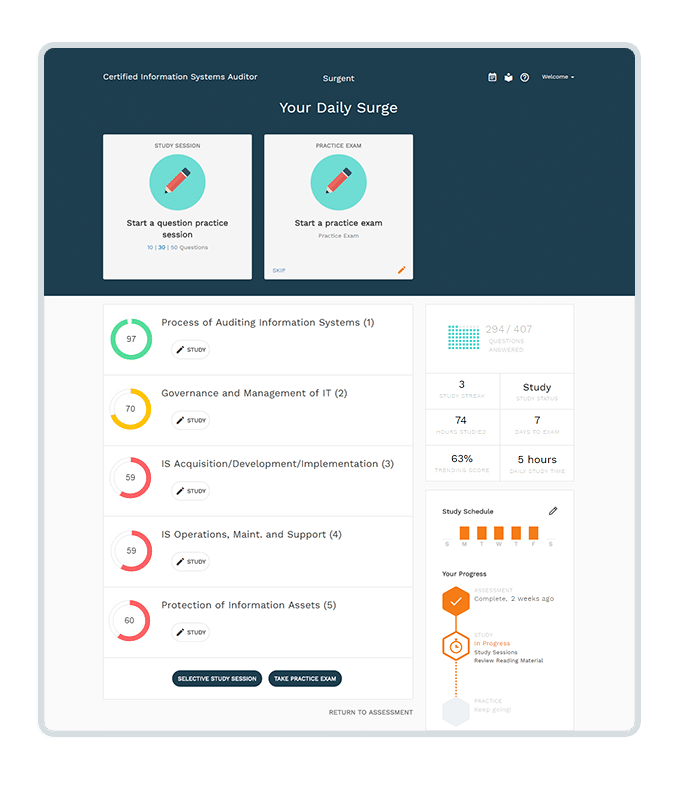 Study Phase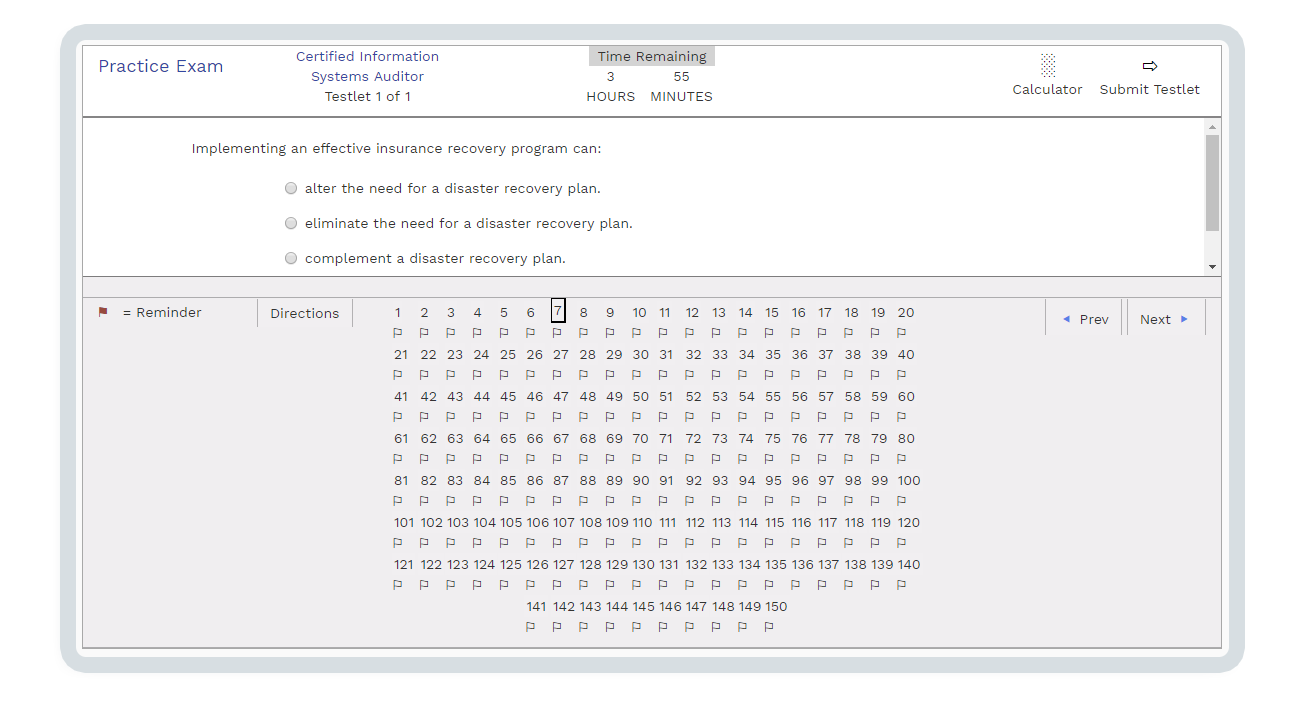 Round out your preparation by turning your focus to the final stage of studying: full practice exams.
Unlimited practice tests – so you can go into the exam fully prepared!

Trending Scores – indicate performance, so you know exactly when you're ready to take the CISA Exam!

Sit - And Pass
Go into the exam confident that you've been prepared by the most effective review software on the market.
"I've tried other test prep courses and found this to be the best, most flexible, comprehensive, easy to understand out of all of them."
Leave a Review